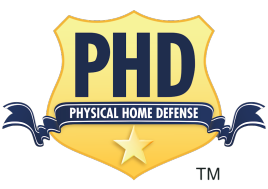 About Physical Home Defense
My name is Ron Olberding with Physical Home Defense.
As home builders, we've helped so many people build their dream home only to watch their happiness shattered because that home was burglarized.
We made it our mission to keep you and your family safe by providing you with proven security products and systems like the Jamb Brace Door Reinforcer System.
Starting in 1997, we set out to develop and test products that secure homes. We worked closely with the Overland Park Crime Prevention Unit and started testing security solutions.
We started with commonly accepted security measures, and to our surprise, found that none of them worked! We found that none of these generally accepted measures were actually tested in real life applications.
From our research, we found that securing the frame and the door edge with commercial-grade components and a heavy­-duty dead bolt were the keys to keeping intruders out.
The Jamb Brace Door Reinforcer System was born to provide the first step in physical defense for your home.
It is critical to choose the right security products, solutions, and systems for your home because if the bad guys get in, they win.
All of our work is guaranteed! In the event that the Jamb Brace Door Reinforcer System fails, we will pay your insurance deductible up to $500.*
Secure your home today with the Jamb Brace Door Reinforcer System from Physical Home Defense and sleep a little easier tonight.
Call (913) 851-4500 or email us at Ron@JambBrace.com to find an installer in your area and schedule your installation today!  You can also visit the location page to find a dealer near you.
* Only applies to our products that are installed by one of our trained dealers.
To the wonderful and knowledgeable people at Physical Home Defense.                                                                          
I thought I was safe – living on a major highway, with a security system in place, but I was wrong.  My home was broken into, and several items were taken. It was a wake-up call that showed me just how ineffective an alarm by itself is, and luckily I was put in touch with Physical Home Defense by my brother.
Now, I have the Jamb Brace and new deadbolts protecting my exterior doors.  I also have a camera in place and a DVR to record continuously, as well as a driveway sensor, and motion sensitive exterior lighting on both sides of my house.  I switched to their alarm system, which incorporates a shock sensor door contact, glass break detectors and has an exterior siren/strobe light rather than an interior siren that no one can hear. My old alarm system was only activated when the burglar kicked in the door and gained access to my house. Now if someone tries to kick in my door, the Jamb Brace will keep them out and the shock sensor will set off the alarm while the burglar is still on the outside trying to get in. The exterior siren/strobe will sound immediately drawing attention to the burglar while he is still on the outside. That alone will send the thief running.  Also, I can check the view from the camera on my phone, as well as turn on or off my security system from an app on my phone.  I get a text message on my phone when someone drives into my driveway. I can then check the camera from my phone and let my neighbors know if anything suspicious is going on. Hopefully, when they try kicking the door, they will break their foot since it is reinforced with the Jamb Brace system.
I was very impressed with the professional advice I received, and the efficient way the installation was done.  I feel that the experience this company has in the security field enabled them to give me the very best protection that is available today.  I now know that I am more in control of my home's security and my personal safety as well.
Thank you to everyone from PHD who worked on my home!
Karen W.
I want to thank the good people at Physical Home Defense.  You can't put a price on the piece of mind that the JambBrace, L-Shape guard plate, and the security system provides for my wife and family.
The thought of just an alarm always felt like false security, since it only set off an alarm after someone got into the house and even if nothing terrible actually happened the mental scared that would leave would be awful.
I now have real security in my home!
Brian H.
It was recently brought to my attention by a security professional that my stand alone alarm system and keyed door knobs would not physically keep anyone out of my house. I was referred to a company called Physical Home Defense (PHD) a division of Edward Wayne Inc. This company specializes in physical security and incorporates an alarm system that compliments the physical security.
They performed a security survey on my house and showed me how they could secure my doors by incorporating a Jamb Brace, a new heavy duty grade one deadbolt and their own specially designed L-shaped door edge protector. They also showed me how they could install laminated security glass in my doors, sidelites and windows. To me, this information was invaluable and I approved them to perform the work to make my home more secure. I can't even begin to tell you how much safer my family and I feel and it makes it a lot easier for us to fall asleep at night.
As for their professionalism, they showed up on time when they were scheduled to and were very cautious when installing their products so as to not damage any part of my house. They cleaned up any mess that they made to the point that I couldn't even tell that someone had been there.
PHD's products are so well designed that you can't even tell that they had been installed once the work was done. My house looks exactly the same as it did before they secured it and I would not hesitate recommending them to anyone. I would personally like to thank Ron Olberding and David Allen for all the work they have done in designing their fantastic line of security products and for setting up a company that specializes in this very important and necessary field of work.
Henry B.